Before: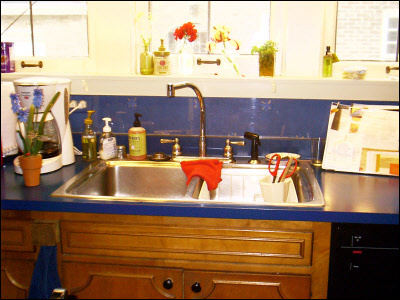 After: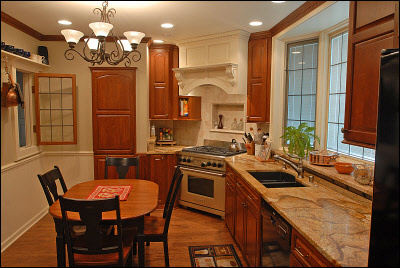 Shorewood Home Before Kitchen Remodeling
This Shorewood kitchen's aging surfaces and dated design were begging to be remodeled. The unattractive blue vinyl countertops struck visitors harder than the windowless two-way door. The kitchen floor had small, irregular tiles with excessive use of grout. Cleaning this tile and grout had become a frequent chore. This homeowner smartly called S&K Remodeling to modernize this aging kitchen. S&K's kitchen remodeling professionals went to work transforming this uninspired kitchen and dining room into a beautiful living space.
Call the Shorewood kitchen remodeling service providers at S&K Remodeling today and impress your guests with a beautiful new kitchen.
Shorewood Kitchen Before Renovation
This dated kitchen needed a major upgrade from the top Shorewood remodeling professionals. The homeowner thought this kitchen detracted from the home's modern and attractive image, and we agreed. The S&K kitchen remodeling experts set to work replacing the old blue vinyl countertops and unattractive sink hardware. We also replaced the old cabinets, got rid of the tile floor and removed the wallpaper to paint the walls and ceiling.
Shorewood Home After Kitchen Remodel
S&K Remodeling's successful Shorewood kitchen remodeling project turned a drab kitchen into a beautiful work of art. This radiant new kitchen's granite countertops, stained wood cabinets and laminate floor complement each other perfectly. The homeowner had grown tired of the old kitchen and its ugly blue vinyl countertops and dated, mismatched fixtures. A smart call the S&K's Shorewood kitchen remodeling experts gave this kitchen a significant upgrade in looks and functionality. S&K's kitchen redesign experts went straight to work, quickly designing, building and installing the beautiful hardware pictured above. We performed this renovation project with unmatched speed and attention to detail. The S&K kitchen remodeling professionals will turn any aging home kitchen into a beautiful work of art.
Shorewood Home Before Kitchen Remodel
This old kitchen was in desperate need of a complete remodeling. Ugly blue vinyl countertops, dated trim and styling, a deteriorating tile floor and old cabinets necessitated this Shorewood kitchen remodeling project. A call to S&K's kitchen renovation professionals was the first step in dismantling this tired relic of the 1970's. S&K's Shorewood kitchen remodelers designed and implemented a modern look for what turned out to be a surprisingly spacious kitchen. Sleek new granite countertops, stained cabinetry from Holiday Cabinets, a laminate wood floor and many smaller details made this kitchen into a beautiful work of art.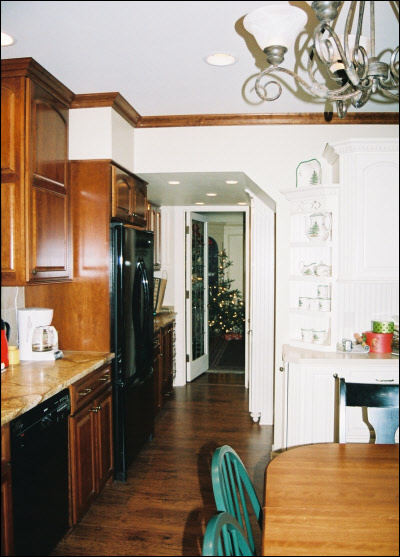 Shorewood Kitchen Remodeling Completed
This impressive Shorewood kitchen remodeling project was a dramatic improvement in both style and utility. Despite its immaculate and modern appearance, this home has been around for years. Fed up with a dated look, the homeowner made the right choice by calling S&K's Shorewood kitchen remodeling experts. S&K's home renovation professionals quickly set to work removing the bright blue vinyl countertops, deteriorating tile floor, dated cabinets, contrasting wallpaper and dangerous windowless two-way kitchen door. The new styling and hardware, modern domestic appliances and impressive granite countertops were all expertly installed by S&K's skilled craftsmen and plumbers. We even installed a brand new windowed door to alleviate a real source of headaches.