Top 5 Tips for a Successful Remodeling Project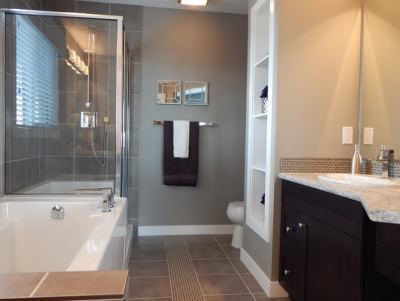 Bathrooms have transformed from being simple necessities into luxury spaces for homeowners to relax and unwind. The professional Brookfield bathroom remodeling professionals at S & K Pump and Plumbing have compiled the top 5 tips to make a renovation go smoothly, giving you the bathroom of your dreams.
Budget for Unexpected Costs
After getting a quote for a Brookfield bathroom project, it's always a good idea to save a little extra in case there are unexpected problems, like a leaky shower or running toilet. If you had a leaky shower, you may have water damage in your floor or in the walls, which can lead to costly repairs.
Choose Appropriate Sink and Counter Surfaces
Bathroom surfaces are subject to a lot of daily wear and tear. Porcelain continues to be a popular choice for both sinks and countertops, because of its incredible durability and relatively cheap price. Granite, marble and quartz have also migrated from kitchen countertops into bathrooms.
Splurge on your Shower
Unless you frequently take baths, our Brookfield remodeling professionals strongly recommend splurging on a nice shower. There are many new shower advancements, from his and her shower heads, to multiple body sprays, even floor lighting. Stop by our Brookfield remodeling showroom to see all the available options!
Look for Water Efficient Appliances
Most bathroom fixtures, like faucets, toilets and shower heads have become much more water efficient, due to the EPA's WaterSense program. Products labeled with the WaterSense logo are 20% more efficient than federal standard requirements. This saves the average family hundreds of dollars per year on water costs.
Don't Blindly buy Products Online
Researching products online is a great way to compare products and get design ideas, but pictures online can be deceiving. It's always best to see the products you're interested in, in person. A steely blue granite countertop could actually be more grey than blue. Stop in the S & K remodeling showroom in Brookfield to view a wide variety of bathroom and kitchen remodeling items and ideas. Our friendly team is always available to answer any questions or concerns you may have!